In most of the Industries' due to the fluctuating load conditions' the power factor also varies accordingly. These fluctuating loads include overhead cranes' hoists' welding machines' injection & blow molding machines' etc. which require immediate compensation using fast action devices' i.e. thyristor modules.
It is hence a practical difficulty to maintain a penalty–free power factor' eithre through fixed compensation or through traditional contactor switching methods.
Also due to the untimely compensation' the overall system power factor deteriorates' resulting in low power factor and higher KVA demand.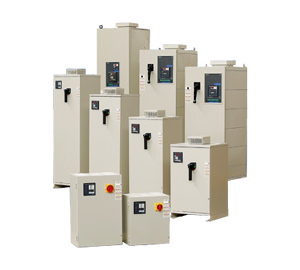 The Need For Thyristor Switched Capacitors :
Due to the variable load conditions' manual switching of capacitors is combersome' as close monitoring of power factor is required all the time. Automatic PF correction using contractors for capacitor switching has several disadventages' viz.
High switching transients.
Increased stress on contactors and capacitors.
Sluggish response.
Limited number of switching operations.
Reduction in overall life of capacitor.
Welded contacts' hence increased maintenance and spares inventory.
In order to overcome these draebacks' the need for a perfect substitute was developed by Powerflow Capacitors (I) Pvt. Ltd.' Nasik in form of Solid State Switching' using thyristors and employing the unique principle of Zero Voltage Switching.
The UNI–COS Thyristor Switched automatic Power Factor Correction System has several adventages over the traditional switching in terms of its construction' working principle' features' reduced maintenance' extended life of capacitors' etc.
Construction Of UNI–COS APFC System :
UNI–COS Thyristor Switched Automatic Power Factor Correction System is very effective whrer variable load conditions prevail and the traditional contactor logic just cannot function due to its inherent limitations' mainly its sluggesh response.
The UNI–COS APFC system consist of anti–parallel thyristor modules mounted on heat sinks' zero voltage switching circuit' protection fuses and line chokes in each phase for transient–free switching of the delta connected capacitor banks.
The main benefits of UNI–COS Thyristor Switched APFC System and its superiorit over traditional contactor switched version is enclosed herein for your study and comparison.
Working Principle Of UNI–COS APFC System :
The main fast acting regulator evaluates the load by sensing instantaneous voltage and current. these values are then converted into digital form in the main regulator and are continuously evaluated to calculate the value of PF from these two values. The regulator senses the load current with the help of a CT installed in any one phase (having maximum current) and the vaoltage input from the remaining two phases. The command signal from this regulator for switching On / Off of each capacitor bank is received by the Zero Voltage Switching (ZVS) card.
The ZVS card consist of a circuit that ensures switching on of Capacitors at zero voltage cross–over' thereby eliminating the switching transients (spikes / surges) and ultimately enhancing the overall life of capacitors.
The main fast acting regulator evaluates the system PF and compares it with the preprogrammed / SET PF. Further' based on the KVAR connected' the system switchs on the capacitor steps' so as to achieve PF as closest to the SET PF. Based on the load pattern prevalent in the industry' the switching delay can be adjusted or programmed.
Comparison Between Thyristor Switched And Contactor Switched APFC System :
| Features | Thyristor Switched APFC System | Contactor Switched APFC System |
| --- | --- | --- |
| | Solid State thyristor modules | Electro–mechanical contactors |
| | | |
| | | |
| | | |
| | | |
| | | Reduced on each switching |
| Suitability for Variable Loads | | |
| Response to PF Correction | | |
| Overall cost of maintenance & spares inventory | | |
Benefits Of UNI–COS thyristor Switched APFC System :
Suitable for any load pattern' due to rapid response time.
Power Factor can be maintained closer to Unity or set target power factor.
Zero Voltage Switching technique eliminates switching On transients' hence minimum stress on capacitors.
Reduced KVA Demand (Maximum Demand) and benefit of PF rebate (if nay). The Contract Demand can be selected accordingly.
Faster pay–back period due to recently revised energy tariffs' viz. PF rebate' for PF > 0.95 onto Unity.
Reduction in current drawn and healthy voltage conditions' due to improved power factor.
Due to reduced current' the cable size and rating of various switchgears can be reduced' resulting in cost savings' especially for new projects.
The performance of UNI–COS Thyristor Switched APFC System is unaffected neither by the presence of harmonics nor any additional harmonics are generated by the system.
Benefits Of UNI–COS thyristor Switched APFC System :
As this product is classified in the IT Act under "Energy Saving" category' you can avail 100% Depreciation in the ver first year of purchase' thus ensuring faster payback period.
Features of main regulator :
Automatically adjusts to any capacitor step value.
7–segment LED indication of Average PF' Line Voltage' Line Current' Active Power' Reactive Power and Programmable parameters.
No–volt release feature to immediately disconnect all capacitors' in case of any power failure.
Instantaneous Protections against Over Voltage (> 110%)' Harmonic Overload' Over Temperature (> 60 deg. C).
Power Factor Correction fault.
Status indication of each individual step' whether On / Off' through LEDs.
In–built Rs. 232 serial port for PC connection.
Available in plastic casing' size–144 X 144 X 120 mm.