Energy Storage Capacitors
High Energy Density (DC) Capacitors For Special Application :
High Energy Density
Very Low Inductance
High Peak Discharge Current
High Pulse Repetition Rate
Life With High Reliability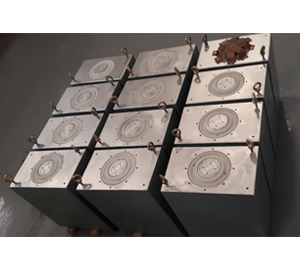 Rectiphase Make Energy Storage' Special Application Capacitors are manufactured to meet the specification of IS 13666 : 1993.
Installation : Indoor.
Ambient temperature : 0° C to 50° C.
Altitude : Not exceeding' 1'800 meters above sea level.
Mounting : Any position.
Rectiphase Make Energy Storage Special Application Capacitors are designed with the aid of specially developed Computer Programmes. These are manufactured upto 150 KVDC rated Voltage.
The Capacitors are manufactured using all film or mixed dielectric impregnated with Non PCB fluid.
Winding is done and arranged in such a fashion that it gives minimum inductance' for external connection sparallel bus bar system is used.
Considering the high discharge current duty the inter element connections are designed to withstand the electromagnetic forces developed.
The bushings are designed so as to withstand the discharge curreri upto 400 KAmps.
Voltage : 1.5 KV to 35 KV.
Energy in KJ : 1 KJ to 12.5 KJ.
Mfd. : 10µf to 250µf.
Inductance : Less than 30 nanohenry.
Peak current : Upto 375 KA.
Life expectancy : 10 5 shots.
Capacitors are designed to operate at value of percentage voltage reversal between 20 to 80.
Energy storage capacitors are classified into different categories depending on maximum peak current' repetition rate' Working temperature' storage temperature or inductance value.
Classification Based On Maximum Peak Current :
Category A1 Maximum peak current : 25 KA.
Category A2 Maximum peak current : 50 KA.
Category A3 Maximum peak current : 200 KA.
Category A4 Maximum peak current : 500 KA.
Classification Based On Repetition Rate :
Category A Upto : 5 PPM.
Category B Upto : 1 PPS.
Category C Upto : 10 PPS.
Category D Upto : 100 PPS.
Category E Over : 100 PPS.
Classification Based on Temperature :
Category L : 0 to 45° C ambient.
Category H : 0 to 50° C ambient.
Classification Based on Storage Temperature :
Category L1 : 0 to 70° C.
Category H1 : 0 to 50° C.
Classification Based on Inductance Value :
Category 1 : 15 to 60 nanohenry.
Category 2 : 61 to 150 nanohenry.
Category 3 : above 150 nanohenry.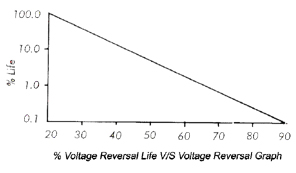 These Capacitors are charged at a relatively slow rate' from few milliseconds to a couple of seconds and discharged at very fast rate. Thus' very high power outputs are obtained.
Energy stored in a Capacitor is calculated as ; 1/2 CV2.
Generally' these types of Capacitors are operated in oscillatory circuits.
The % voltage reversal becomes an important parameter both in design and cost. Generally' this ranges upto 80% from 20%.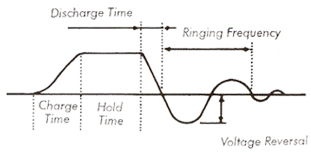 This is an important factor to be considered while designing Capacitors.
The Capacitor is charged to its rated voltage and held at this Voltage continuously though a trickle charge with ±5 Percent Variation. The test is continued till there is a breakdown. The time of breakdown shall be taken as total D. C. life.
Visual Examination.
Sealing Test.
Test for Capacitance.
Insulation resistance test.
Voltage test between terminals.
Voltage test between terminals and container.
Measurement of dissipation factor.
Charge/discharge cycle test.
ESL Measurement.
ESR Measurement.
Capacitor discharge test.
D. C. Life Test.
Life Expectancy / Endurance test.
The maximum permissible overload current can be 1.1 times rated peak discharge current at rated percentage Voltage reversal and rated Voltage. depending on percentage Voltage.
ESR Measurement (Equivalent Series Resistance) :
Charge / Discharge Cycle Test :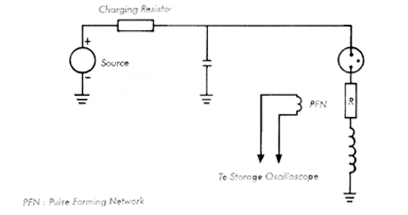 In this test through an automatic switching device the capacitor charging / discharging cycle are repeated and the charging and discharging Current / Voltage parameters are monitred. The rated life of the capacitor varies between 104 to 106 cycles.